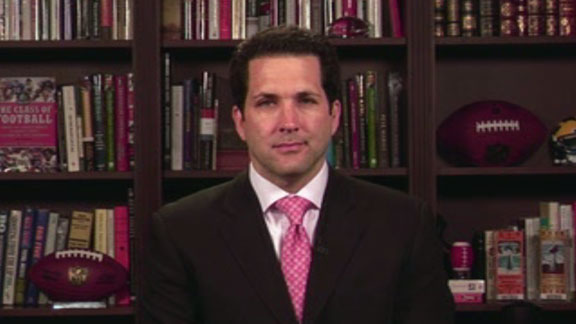 So apparently when Joe Namath speaks, things still happen for the Jets. A week after Broadway Joe stopped by SportsNation to chat and said he didn't think his old team could be real contenders in the AFC East without more moves, the team went out and traded for wide receiver Santonio Holmes. We're sure there is a direct correlation; what happens in SportsNation does not stay in SportsNation.
Now the bad news for Jets fans. As ESPN's Adam Schefter reported Monday, Holmes will miss the first four games of the upcoming season, reportedly for reasons related to prohibited substances, which means Braylon Edwards may be the model citizen of the team's receivers. Nonetheless, a Jets fan blogs his pleasure with the move, and a Dolphins fan blog his concerns.
"Oh my goodness, Mike Tannenbaum -- Mr. T -- has delivered a CHRISTMAS present in April! The Jets offense made a dramatic improvement overnight with the addition of another receiver that can stretch the field. More importantly, Mark Sanchez now has another target to hit, which will come in handy as he continues his development as an NFL quarterback." -- Read Goldbrick4's full post.
"I trust Bill Parcells, Jeff Ireland and coach Tony Sporano. But in year three of this regime, the lack of activity is testing my faith. You can only add so much in the draft, so what exactly is the Fins braintrust waiting on? On paper right now the Dolphins are third in their division, and the gap between second and third is growing by the day. The Dolphins need to make a huge splash in this upcoming draft. The Dansby signing was but a mere ripple. The Jets are doing cannonballs." -- Read ricodade's full post.
JD (NY)
Santonio Holmes for a 5th-rounder...ummmm, why????
Gary Horton
The Pittsburgh Steelers can't wait to part ways with him. That's not a lot of compensation for a pretty good player. I think the Steelers are sick and tired of these offseason problems. This may be a statement for their players. For the Jets, it could be a great pick up, in terms of not costing them a lot, but the Jets also continue to flirt with high-risk, high-reward players (not necessarily all personal issues). As we said a week ago, LT is a big name, but is there anything left in the tank? Cromartie is a talented CB, but he has all sorts of issues. Brodney Pool has real injury problems. The Jets could come out of this really smart or not looking very thorough. Full transcript