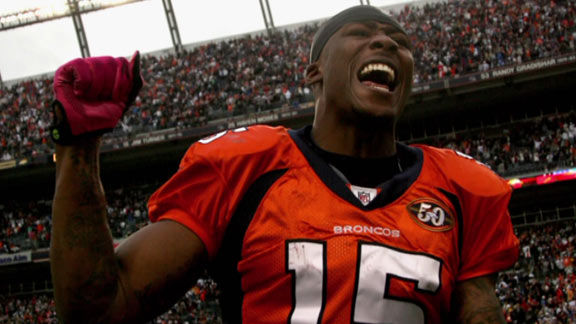 If you knew that Davone Bess led the Dolphins in receptions and receiving yards last season, you must either be a Dolphins fan or a fantasy owner who suffered through a really long 2009 season. So with no offense to Bess, the Dolphins should have a lot more offense now that he's not their go-to receiver.
Brandon Marshall is reportedly headed to Miami in exchange for a second-round pick in this year's draft and a second-round pick in next year's draft. When the Jets acquired Santonio Holmes for a pittance (translation: a fifth-round pick), a majority of SportsNation said that was a better deal than getting Marshall for a first-round pick would be. But after the Dolphins nabbed Marshall without surrendering a first-rounder, did they make the better deal? Rank the NFL's top receivers.
"

The Dolphins still have Chad Henne throwing the passes. Marshall will be more frustrated in Miami than he was in Denver...

"

-- rukus9
"

He's a good player, but I'm glad he's not coming to Seattle. We've got a lot more rebuilding to do than just at receiver, I'd rather have the picks.

"

-- korvallion
BEST OF THE BEST
Best triple-double?
Who had the best triple-double -- Michael Carter-Williams, or Victor Oladipo? Cast your votes! »