Joakim Noah doesn't think Cleveland is a vacation destination? Clearly, the guy isn't spending enough time on ESPN Travel. He'd know about the Rock 'n' Roll Hall of Fame, the Great Lakes Science Center, the Cleveland Museum of Natural History, Progressive Field and the Cleveland Botanical Garden. Oh yes, we said the Cleveland Botanical Garden.
"The highlight is the crystal-peaked, 18,000-square-foot glass conservatory. It houses two remarkable ecosystems: Madagascar's spiny desert and Costa Rica's rainforest. The spiny desert features the largest collection of Boabab trees in North America, a pair of free-roaming Oustelett's Chameleons and an environment of delicate and endangered Madagascar plants. The rainforest includes more than 200 butterflies, tiny orchids and palm, black olive, fig and avocado trees." -- Read the full city guide at ESPN Travel
Want to know where Clevelanders think you can stick that spiny desert, Joakim?
Anyway, Noah's travel reviews, while not exactly Bill Bryson, got us wondering about the NBA playoffs as a vacation planner. Would you rather spend a week in Cleveland than Oklahoma City or Milwaukee? Where does Noah's professional home rank? Rank 'Em.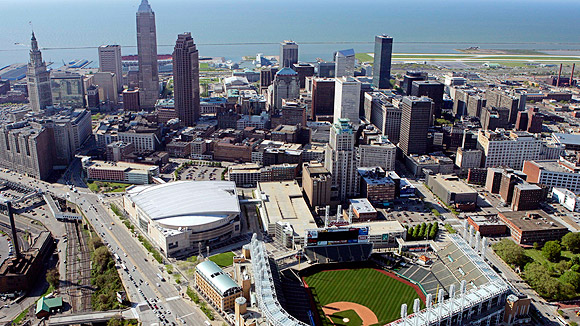 Jesse (Raleigh)
It's funny to watch Joakim run his mouth, especially after he got schooled by a 38-year old Shaq.
Chris Sheridan
I ... disagree with Noah's assessment of Cleveland. There are worse NBA cities to be stuck in for four days, trust me. Just need to know where to go in Cleveland. (Example: Best Vietnamese food I've ever had, except for in NY's Chinatown, was in Cleveland.) Full transcript