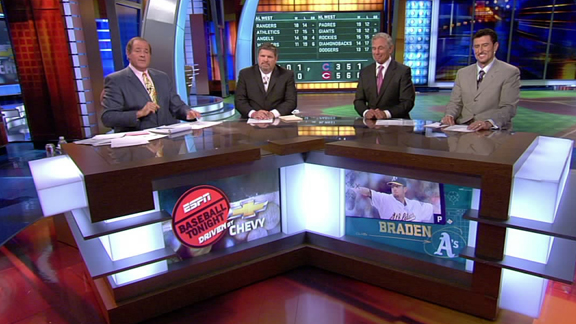 In the fifth inning of Dallas Braden's perfect game, Rays superstar Evan Longoria did a curious thing: He bunted.
This would be worthy of singling out in normal circumstances (Longoria is one of the best hitters in the league despite not yet being 25 years old), but this was obviously an exceptional occasion. Longoria might have violated one of baseball's unwritten rules: Never bunt in an attempt to break up a perfect game or no-hitter. Braden is a well-known arbiter of baseball's curious code, but he didn't have a problem with it. He might have been singing a different tune if Longoria's bunt hadn't rolled foul, but we've no way of knowing that.
SportsNation believes bunting in that situation is, at the very least, a greater no-no than cutting across the pitcher's mound, but there's a lot of nuance there. John Kruk said on "Mike & Mike" that bunting is A-OK, regardless of the situation. When should a player defer to history?
"

as far as bunting to break up a no-hitter, a lot depends on the situation.....if it is a close game and a team is trying to get some base runners to get a couple of runs, then it is justified. However, if the team is getting smoked at the batters are bunting with the specific intent of breaking up the no-no, then that is a cheap shot attempt at ruining what could be a historic game.

"

-- huffyt13
"

Bunting to break up a no-hit bid is situational. If your team is being no-hit, but you're tied or down by a small margin, why shouldn't you bunt to try to get on base and make something happen? If it's an 8-0 in the ninth, then it's unlikely a bunt hit is going to spark a comeback. Hit the baseball or sit down.

"

-- mrentfro