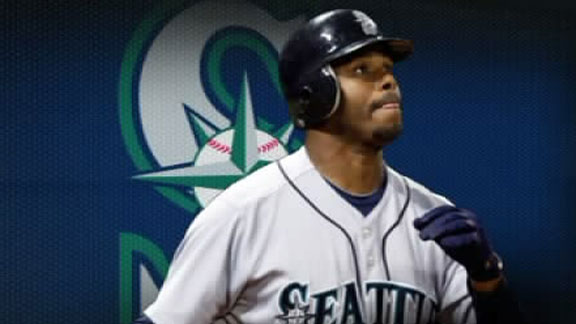 The Mariners went silent after Tuesday's game in Baltimore, ironically escalating how much the rest of us discuss precisely what they're mad about in the first place. Many players refused to speak to Tacoma News Tribune reporter Larry LaRue after he wrote the story, as told to him and confirmed by anonymous players, about Ken Griffey Jr. sleeping through a pinch-hitting opportunity. Luckily, the players wised up and spoke after Wednesday's loss ... oh wait, no, they still wouldn't talk. Counterproductive, much?
"So, the M's won't speak when the reporter is in the room? Probably because they don't want to have to answer his questions with lies. Also, boycotting this reporter hurts the fans, because we want to know the truth, and we want to have the players address the media. The way the team is handling this issue will drive fans farther away. Someone like Lee should have just said, I won't address that particular issue, but let's talk about my pitching performance and the team's performance. The more they deny, and keep the issue going, the more defensive they appear." -- SportsNation commenter coreyshank72
Of course, what probably has front office folks in Seattle sleepless is Griffey's anemic batting average and nonexistent power numbers. The problem is how do you gracefully kick him to the curb, even if you want to? Not only is Junior a Seattle icon, he might be one of the best outfielders ever to play the game. Rank 'Em.
Mike (Ohio)
So, was the biggest crime Griffey sleeping during the game or the 2 anonymous players going outside the clubhouse to the press?
Joe Morgan
That is a great fan question. For me, it's the two guys going outside the clubhouse. If you have something to say, say it to the guy you're talking about. Or, if you feel like you have to go to the newspaper, at least be man enough to put your name on it. But that clubhouse in Seattle has been in disarray for the last couple of years. Full transcript
Mike (Ohio)
Hi Jerry, a question I posed to Joe Morgan earlier: Was the biggest crime Griffey sleeping during the game or the 2 anonymous teammates who went outside the clubhouse to the press? Thanks
Jerry Crasnick
Mike, Obviously, it makes Griffey look bad, but this wouldn't be nearly as big an issue if the Mariners weren't so anemic offensively. As for the two anonymous teammates, I get the impression that they were just confiding in the reporter and didn't realize the story would blow up the way it did. For what it's worth, Larry LaRue, the guy who reported the story, has been around a long time and is well-respected in the industry. He's not a guy who would just invent something to stir the pot and cause problems. Full transcript