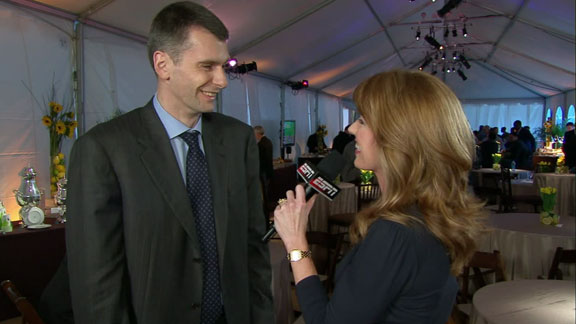 Here are a few of the positives listed on John Wall's ESPN.com draft scouting report:
"Freakish athletic point guard ... Explosive leaping ability ... Flies up and down the court"
And here's the biggest positive on Nets owner Mikhail Prokhorov's scouting report:
That last one, of course, is Prokhorov's net worth, according to the Forbes rankings of the world's billionaires (he comes in two spots behind Trail Blazers owner Paul Allen).
So, no, the Nets didn't win the draft lottery and a chance to draft Wall, didn't even win the consolation prize of the No. 2 pick and Evan Turner. But they do still have a few billion cards in their favor when it comes to rebuilding the team with the worst record in the league. Meanwhile, as Michael Wilbon writes in the Washington Post, the Wizards have a chance to draft a player who could ultimately help them land Carmelo Anthony or Kevin Durant.
Which side of that equation do you think makes for a brighter future?
vk (dc)
If Cousins wasn't such an idiot would he be the #1 overall pick?
Chad Ford
I don't think idiot is the right word. Moody may be more like it. But yes, if he has the off-the-court rep of Evan Turner, he would be in very strong competition with Wall for No. 1. Full transcript
"

Wiz need to trade down the pick to another team and raid their roster for 2 impact vets. Wall will waste away in DC

"

-- HowardBison94
"

Wizards just need to suck it up for one more year. Carmelo Anthony is from Baltimore and would love to play for the Wizards. With Wall there, it will make his decision easier to come back home. Bank on it. It couldn't get better than that!!

"

-- LiftOff23