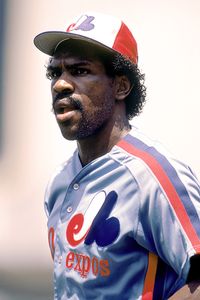 As controversial Hall of Fame inductees go, Andre Dawson's arrival this weekend isn't exactly Shoeless Joe Jackson, Pete Rose or Mark McGwire reading from prepared notes (especially difficult in Jackson's current condition). But the lone player granted a place in Cooperstown this year by the Baseball Writers Association of America does stir up his fair share of arguments on less ethically-dubious topics among baseball fans.
First off, considering Dawson didn't hit many home runs last season, were his voting gains a result of backlash against the era of steroids that followed his playing days? Or might the election of a guy with a lifetime .323 on-base percentage (lower than Melky Cabrera) be evidence of a backlash against the era of statistical analysis that followed Dawson's career?
And second, even if you don't believe Dawson's election was in part a protest vote of some sort, there's the small matter of his hat. In January, he said he was disappointed the Hall of Fame will put an Expos cap on his plaque, rather than the Cubs hat he wore in earning the 1987 National League MVP and winning over Windy City fans.
Jeff (Ann Arbor)
Do you think Andre Dawson and (especially) Jim Rice would have been elected if there wasn't this ideologic war between old school BBWAA voters and the stat-heads?
Keith Law
I believe that Rice was elected as part of a backlash. Some old-school voters didn't like to hear that the way they thought about players their whole lives was wrong. Some clearly don't like - or won't accept - that their monopoly on the transfer of information to readers is over. And some are just clinging madly to RBIs like they're life rafts in an ocean. Full transcript
Mike (San Diego)
Did you know that the Hall of Fame now has a member whose OBP is lower than Yadier Molina's? Whoopsadaisee.
Rob Neyer
Hey, I'm surprised to see how good Yadier Molina has become! Seriously, there's more than one Hall of Famer with an OBP lower than Molina's. Rabbit Maranville, Joe Tinker, Bill Mazeroski ... Our newest Hall of Famer does have the lowest OBP among outfielders, by a lot. Full transcript
"

It honestly doesn't matter what hat the guy wears. He will always be looked at as a Cub. The Cubs will eventually retire his number and that will be good enough for me.

"

-- killerklown81
"

I have been an EXPO fan since 1981 when I was 7 years old. The team no lnger exists, and I dont think it is to much to ask that people honor the fact that Montreal had some really good players for a long time and the team should be honored.

"

-- claudenj7