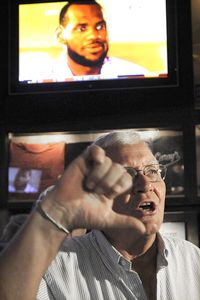 Everyone has been there. You end up the aggrieved (i.e. dumped) party in a rough breakup. You go out on a couple of all-night benders and make a fool of yourself, curl up in the fetal position on the couch with comfort food or, you know, burn jerseys in the streets and wear out the caps-lock key. Whatever makes you feel better. Your friends and family look the other way and let you get it out of your system. But at some point, well, you just get creepy.
How long until angry fans in Cleveland hit that stage?
A fan wearing a LeBron James Miami Heat jersey had to be escorted out of Progressive Field in Cleveland during Wednesday's game against the Yankees after drawing the sustained ire of ticked off Clevelanders. Now, wearing that jersey in that situation might raise some questions about the fan in question (wearing any jersey in public might do that, if you ask us), but does Cleveland need to get over the whole LeBron thing?
"

It is a free country, fans have the right to root for anybody they want. I hope the guy got his money back.

"

-- pac7196033
"

Wow, way to go all you brand new Cavs haters who had nothing to cheer about before the arrival of King LBJ. You've brought a new low to sports. Having a man heckled and escorted out so you can voice your displeasure with another who owes you absolutely nothing. Way to go.

"

-- Mr_Stuff
"

The guy knew what was going to happen. He went to that game knowing it was going to make Cleveland fans angry and he got the reaction he wanted. He knew nothing was going to happen because of security and cameras and what not. Bet he wouldn't walk into a local Cleveland bar with that jersey.

"

-- tommy2tone614