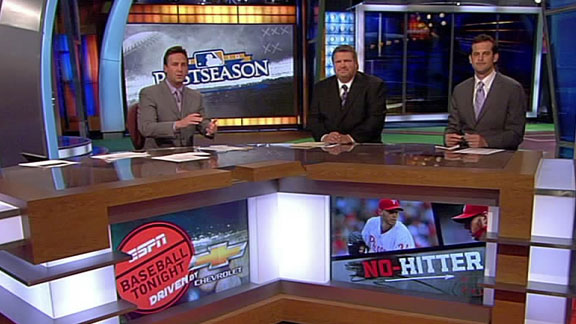 It was a baseball performance unlike anything anyone younger than 54 years old had ever seen. But was Roy Halladay's no-hitter, the first in the postseason since Don Larsen's perfect game in the 1956 World Series, the best performance in all of sports this year?
We've had a Super Bowl passing performance for the ages, a near-miracle from the real-life "Hoosiers" in the Final Four, a marathon match at Wimbledon and a Landon Donovan goal that made the whole country soccer fans for at least a day. And that doesn't even include a college football national championship, the Winter Olympics, NBA and NHL postseason action or a full regular season of baseball, including, lest we forget, a perfect game from Mr. Halladay.
So what's your call, SportsNation? Was Wednesday night the best performance of 2010?
"

Yankees fan here.... offering a tip o' the cap and a thank you to Roy Halladay. That was as fun to watch as anything in a long, long time. It's a good day to be a baseball fan.

"

-- wolf.in.pinstripes
"

I'm slowing starting to become a Phillies Fan I hate to say that but after that performance by Halladay who isn't cheering for the Phillies.

"

-- freshtodef009
"

Best post season pitching performance I've seen since Roger Clemens' complete game, one-hit shut out, w/ 15 K's, of the Mariners in the 2000 ALCS.

"

-- cdman882