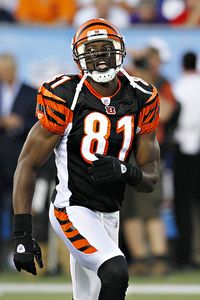 We keep waiting for Terrell Owens' Twitter reaction to a Sports Illustrated poll of his peers in which he took top honors as the NFL's most overrated player. Unfortunately, he seems more interested in his television show with teammate Chad Ochocinco and, somewhat curiously, Zenyatta. Go figure.
As James Walker notes in his AFC North blog, T.O. is on pace for a monster statistical season. But is the fact that the Bengals are languishing at 2-3 suggest the players have a point about his value? You can rank candidates for the league's most overrated player, but who did we miss? Who do you think deserves the overrated title?
Phil (Cincy)
Is Carson Palmer even a top 20 QB any more or do you feel the OC/receivers/OL has been a major part of the problem? How should the Bengals approach the position next year (high draft pick, FA, etc.)?
Football Outsiders' Bill Barnwell
I don't know if I could name 20 quarterbacks better than him, but I do think there's been some serious degradation there. He just doesn't look like the same guy that was there before the injury in 2008; whether it's because he never got the Tommy John surgery his elbow needed or because he's aging is hard to say. Don't think there's going to be very many quarterbacks available next year, and the Bengals have holes at wide receiver and in their front seven that should be high priority. Full transcript
zach (tn)
is T.O. or chad is the number 1 guy in cincy?
AFC North blogger James Walker
Terrell Owens is getting the most opportunties, but I think that's partially because he's getting the most single coverage. That is why the Bengals signed Owens, because teams did the same last year and the passing offense had no answers. Full transcript