You have to wonder if yesterday's games marked somewhat of a sea change in the NFL's power structure. Peyton Manning and the Indianapolis Colts, one of the most consistent teams in the NFL, will not reach 12 wins this season (the first time since 2002 that's happened) thanks to Philip Rivers and the San Diego Chargers, now winners of four straight. The Chicago Bears, no one's choice to be 8-3 at this point in the season, weathered a fourth-quarter comeback from the Eagles behind Jay Cutler's four touchdowns. Is this a sign of things to come for both teams?
"Other than Philip Rivers, I'd take Peyton Manning over any other QB in the league." -- Patriciodaflop
"Chicago dominated yesterday. Anyone who actually watched the game knows that the only reason the score was close (and that Vick's numbers look deceivingly decent) was because the Bears played a deep prevent for the last 2/3rds of the fourth quarter -- a purposeful strategy that successfully gave up a score only after forcing the Eagles to blow all their TOs and leave under 2:00 on the game clock. That drive gave Vick another 80 yards, some completions, and a TD, but those are what the experts call "false statistics" or "ghost statistics." They mean nothing." -- halasjackson
BEST OF THE BEST
Best dancers?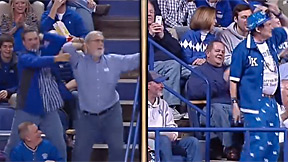 Which fans were better dancers at Tuesday night's Alabama/Kentucky matchup? Vote! »