2. Was trading Brett Favre the biggest blunder of all time?
Stop us if you've heard this before, but Brett Favre is retiring. All right, don't stop us because we're doing this anyway. Favre filed retirement papers with the NFL, which doesn't preclude another return. But going back to the beginning of his run, was trading a young Favre the biggest QB blunder of all time? Rank all-time QBs.
"I know he probably hung on a little too long . But he got what most would love to have . He KNOWS he is done . Some just go on wondering if they had a year or two left. And it really wasn't that bad . One last bad year out of all the good years isn't bad.'" -- SN commenter PJohns963
BEST OF THE BEST
Best dancers?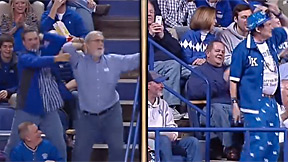 Which fans were better dancers at Tuesday night's Alabama/Kentucky matchup? Vote! »