2. Who would you pick first for a hockey game?
Depending on the outcome of a coin flip, either Eric Staal or Nicklas Lidstrom may have to answer the question that dominates hockey: Sidney Crosby or Alex Ovechkin. Now, Crosby's concussion may make it moot, but if he's good to go, who should the All-Star captain who wins the coin flip pick first? PollCenter: Crosby and head injuries.
"Everyone says that Ovechkin is one of the best players in the NHL, but I don't think so; sure he is the best offensive, but he doesn't play defense and is dirty. when he is in a slump he starts blind siding players and doesn't get fines." -- SN commenter AwesomeKid1980
BEST OF THE BEST
Revis vs. Ware?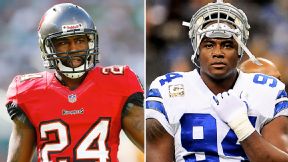 Which player has a brighter NFL future: Darrelle Revis, or DeMarcus Ware? Vote! »