Aaron Rodgers had to wait about three years to dazzle pro football fans in the state of Wisconsin. Russell Wilson needed about three offensive series on the college level. Granted, routing UNLV is a little easier assignment than displacing Brett Favre, but the new quarterback of the Wisconsin Badgers looked every bit the ACC star he was for three years at NC State. Are we looking at another Heisman run from a transfer quarterback?
"As a Virginia Tech fan, I'm glad Russell Wilson is finding success, IN ANOTHER CONFERENCE!! That was a guy that I hated to love -- Virginia-grown but played for an NC State team that always gave Tech a run for its money, only because of the offense directed by Wilson. Hands down that team should be a favorite to make the Rose Bowl with him behind the wheel." -- SN commenter Archer the impailer
"Did he "dazzle" against an unranked team?! This is why college football is useless. Big Bad No. 11 plays St. Mary's School for the Blind and everyone is amazed that they won by 40. Hooray for stat padding!!!" -- SN commenter Klitch
---
Never too early to declare?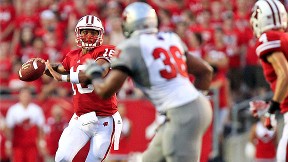 Wilson passed for 255 yards and two touchdowns and ran for 62 yards and another score in Wisconsin's 51-17 win against UNLV.

---
How about the conference primary?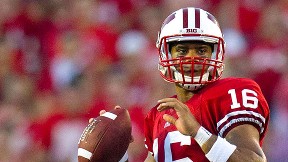 If you think it's too early to start planning a Heisman campaign, what about Big Ten bragging rights? Does Wilson have the inside track?

---
Following the Packers' lead?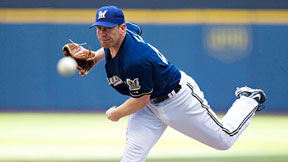 Wilson knows something about baseball as a former minor-leaguer, but does he make the Badgers a better title bet than the first-place Brewers?