September 28, 2011
Sep
28
Adrian Peterson's dad, Nelson, thinks the answer to the question above is easy to decipher. And while Peterson put his name to a contract extension worth $100 million before the season, it does appear he's in trouble if it has any bonus clauses for second-half yardage. The star running back has just 66 rushing yards after halftime this season. Did we mention the Vikings blew halftime leads in each of their first three games?
"Not using Peterson properly in the second half of all three losses is what's doomed the Vikings! PERIOD! Bill Musgrave has to do a better job of leaning on AP when the situation calls for it and less on Donnie, who has one decent receiver to target in Percy Harvin!" -- SN commenter bigmoinaz
"I thought he got hurt. He's my RB in fantasy, and I saw 73 yards and a touchdown at half and then he ended up at 78? That should never happen with a big lead." -- SN commenter TML964
---
Can you sort out cause from effect?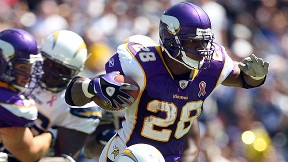 Are the Vikings losing leads because they aren't using Peterson, or are they not using Peterson because they're scrambling to thwart comebacks?

---
Peterson or Chris Johnson?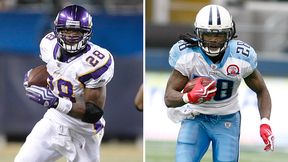 Second-half woes or not, Peterson is faring far better than top fantasy picks. Will it stay that way, or will someone like Chris Johnson prove more valuable?

---
Peterson or Darren McFadden?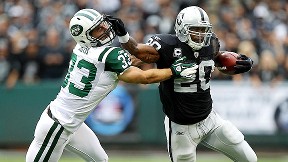 Speaking of fantasy, Peterson was the first pick in an average live draft, but would you rather have Darren McFadden, the current No. 1 RB?