Boise State took a 30-0 lead against Nevada, cruised to a 30-10 win and dropped a spot in both polls. Yet if you read the comments, the only people grumbling more than Broncos fans are the people who think the Mountain West team is still ranked too high. So which is it? Are the Broncos overrated or underrated? Rank 'Em: Submit your Top 25.
"Boise is getting a free ride based off the last four years and a one-win wonder against Georgia. If Kellen Moore hasn't won the Heisman in those four years then why are they still being considered?" -- SN commenter tigertunes
"I just cannot comprehend how BSU is [No. 5] with their schedule and teams played compared to other teams. I do think BSU should be in the Top 25 but not in the Top 10." -- SN commenter voidsphere
---
Where do you rank Boise State?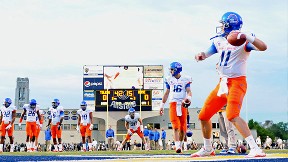 Before back-to-back home wins against Tulsa and Nevada, Boise State beat Georgia in Atlanta and beat up a Toledo team that had scared Ohio State and Syracuse.

---
The underdog or oversold?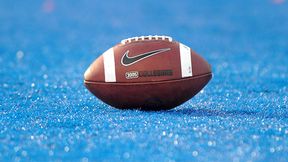 Does Boise State get too much credit for cruising against a soft schedule, or are the established powers too slow to admit a new member?

---
How big was the win against Georgia?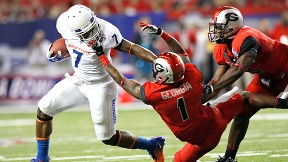 We'll leave the two SEC heavyweights out of the mix for now. Which of these other unbeatens had the most impressive showing?