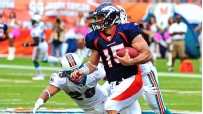 Rex Ryan got a little redemption for sounding off about Norv Turner and the Chargers this week. The Jets came back from an 11-point deficit at halftime to defeat the Chargers 27-21. Was it coaching that made the difference?
Also with something to prove, Tim Tebow took the field for Denver and put up 161 passing yards and 2 TDs along with 65 rushing yards. But the Broncos needed OT against the winless Dolphins to improve to 2-4. Can Tebow keep winning?
Before Sunday's action, 35 percent of SportsNation said that Matthew Stafford was a little better quarterback than Matt Ryan. But it was the Falcons who won the day in Detroit. Did that change your mind about either quarterback? Vote and explain below!
Sound off below or join the ongoing conversations about your team.