Michael Vick, Matt Ryan, Philip Rivers, Tony Romo and even Tom Brady? They're all good quarterbacks, but none of their teams can claim a better record than Jay Cutler's Bears. Cutler guided his team to 13 unanswered points to close out a 30-24 win against the Eagles on Monday. Cutler may be a guy some fans love to hate, but is it time to give him his due?
"The Bears are evolving into a ball-control team with the ability to take shots down field. It's taken a couple of years, but maybe this is exactly what Lovie had in mind when the Bears traded for Cutler." -- SN commenter Dragonbear1976
"The line earned their paychecks tonight. Cutler needs to treat them all to steak dinners tomorrow. Them boys played their tails of tonight. I've never seen Cutler look so cool and collected in the pocket. A+ to the OL." -- SN commenter BJett20884
---
Has Jay Cutler answered critics?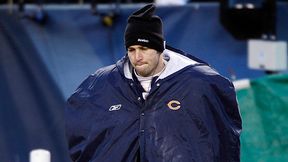 Who can forget this image of Cutler in the NFC title game -- or the tweets from some of his NFL peers that followed his exit with an injury. Was it ever fair to question his toughness?

---
What kind of quarterback is Cutler?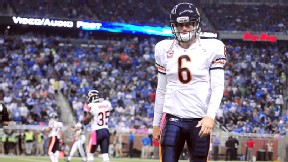 Did you know Jay Cutler has as many career game-winning drives as Philip Rivers? More career passing touchdowns than Michael Vick? A better career passer rating than Eli Manning?

---
Did Cutler take swipe at his line?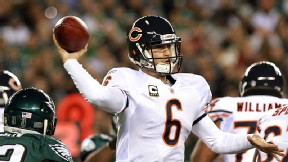 "It starts up front. If my feet are clean, and I've got a good pocket and I can see what's happening downfield … I'm probably going to have a good day." -- Jay Cutler, who entered Monday's game among the NFL's most-sacked quarterbacks.