We have at least one vote in the affirmative to the above question. Washington coach Steve Sarkisian said this week that if he ran an NFL team, he'd take USC's Matt Barkley ahead of Stanford's Andrew Luck. Then he reaffirmed his stance. The catch, or catches? Sarkisian's team plays USC this week, and he recruited Barkley at USC. Is this a valid debate?
"Clearly, I'd go with the media favorite. After all, through eight games, Andy Dalton has more TD passes than any other rookie in the history of the NFL, and we all know he was hyped up over all other QBs in last year's draft." -- SN commenter gpisthefrog
"I think Luck is the real deal, but Matt Barkley is a legitimate pro prospect who will have a long career as top-tier QB" -- SN commenter willbd05
---
What does your inner Kiper say?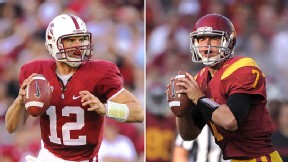 Even if Sarkisian's motives were less than pure, people like Phil Simms have begun to ask questions about Andrew Luck's status as the obvious No. 1.

---
Was Sarkisian playing politics?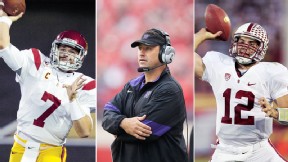 Did loyalty to his recruit motivate Sarkisian? Was he looking to hype an opponent? Or does he actually just think Barkley is better?

---
What about last year's class?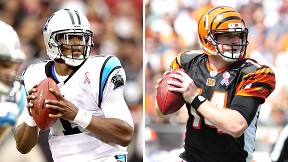 Nobody is giving up on the other rookie quarterbacks, but would you take Cam Newton or Andy Dalton ahead of either of the current college guys?

---
What should Barkley do?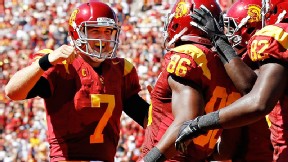 Barkley said the chance to play in a bowl game next season won't influence his decision on staying or turning pro. Should Luck's shadow influence him?