If you missed some of these links earlier in the week, they might prove to be a good way to ease the clock on toward quitting time.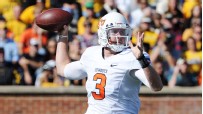 The week's best polls ...
1. Which teams will play for the BCS title?
2. Is Eli Manning an elite NFL quarterback?
3. Is Matt Barkley in Andrew Luck's league?
4. Is Jay Cutler's toughness still a question mark?
5. Is Forbes right that Michael Vick is disliked?
6. Is the NFL out to get the Steelers?
The week's best rankers ...
1. Is Joe Namath the greatest Jets player of all time?
2. Which players lead the Heisman race?
3. Which teams top your NHL Power Rankings?
4. Who tops the race for NFL Most Valuable Player?
5. Which team tops your NFL Power Rankings?
6. Which team tops your college football Top 25?
The week's best quizzes ...
1. Which Hall of Famers threw most interceptions?
2. Which MLB free agents signed for $100 million?
3. Which college basketball players won Wooden Award?
4. Which quarterbacks threw for the most yards?
5. How much do you know about No. 11?