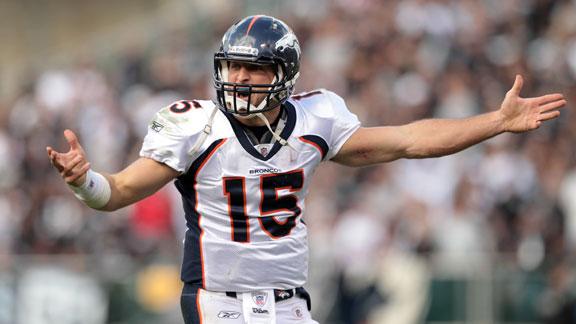 We're not suggesting that John Elway is as loath to see a young quarterback succeed as, say, Brett Favre around Aaron Rodgers, but would the man running the Broncos be just as happy if his team missed the playoffs with its running quarterback? Elway didn't exactly give Tebow -- 4-1 as a starter this season -- a ringing endorsement on a Denver radio show.
"Someone tell me what good Elway has done since starting as Denver V.P.? He demanded Orton start, which got us to 1-4, and had the fans not threatened boycott, who knows where we would be. All the while, he has been almost no support to the one catalyst to turning this team around. If he doesn't like it maybe he should be the one we're replacing." -- SN commenter hallelpenny
"I'd like to see the Broncos draft Denard Robinson as a WR and run some crazy awesome two-QB packages. Both can run, throw, and TT can block and DR can play receiver." -- SN commenter colt44052
---
Closer to an answer?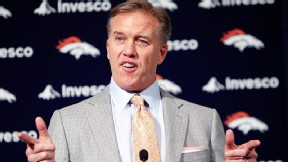 Elway's take: "No. ... I think obviously he's making progress week in and week out. When you look at our third-down numbers, those have to improve. I mean, that's the bottom line."

---
Is Elway's mind made up?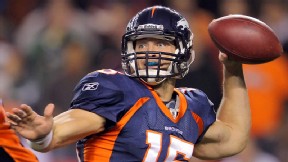 The Broncos have games remaining against the Vikings and Chiefs, as well as the fading Bills and Jay Cutler-less Bears. But would a playoff run win over the boss?

---
What would you do in Elway's shoes?
Elway and other Broncos personnel were spotted at last week's Baylor-Oklahoma game, perhaps scouting Robert Griffin III and Landry Jones.

---
Is it all or nothing for Tebow?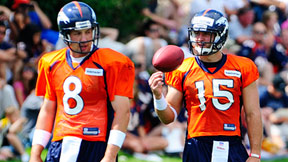 Tebow would presumably be at his best with personnel tailored to his particular skills, but could he be insurance for a more traditional passer?

kevinwildes

Kevin Wildes


RT @redcrossokc: Hal Smith on behalf of @KDTrey5 delivers the Kevin Durant Family Foundation $1 million gift. Thanks KD. #oklahoma http://t…
about an hour ago

CharissaT

Charissa Thompson


Me too. KD. Class Act. RT @Melanie_Collins Love to see this RT @dailythunder Durant donates 1million to the Red Cross for disaster relief
about an hour ago

CharissaT

Charissa Thompson


And this is why I love sports... #RobinsonCano doing good things for kids http://t.co/5sLnzWXNAT
about an hour ago

SportsNation

SportsNation


Alonzo Mourning weighs in on the LeBron vs. MJ debate. http://t.co/0Mwgs24q0f
about 2 hours ago

kevinwildes

Kevin Wildes


Zach Lowe on Heat Pacers...makes you much smarter - Ten Burning Questions in Miami http://t.co/RMmDRduG3V
about 3 hours ago

CharissaT

Charissa Thompson


Ouch. RT @SportsNation: You can get dunked on ANYWHERE: @CharissaT gets posterized in the hallway by @deandrejordan: http://t.co/F30MzJkuqm
about 13 hours ago

CharissaT

Charissa Thompson


No words #OKC
about 14 hours ago

SportsNation

SportsNation


In case you missed @deandrejordan's Dunk of the Year on Brandon Knight, he re-enacted it on our show today: http://t.co/G6xrpAllST
about 14 hours ago

SportsNation

SportsNation


You can get dunked on ANYWHERE: @CharissaT gets posterized in the hallway by @deandrejordan: http://t.co/bSybvxkPq6
about 16 hours ago

SportsNation

SportsNation


We've got a @BrandonKnight07 cutout and @deandrejordan on our show. Guess what will happen next... http://t.co/kl5Z7qzvcl
about 22 hours ago

CharissaT

Charissa Thompson


BOOM! RT @deandrejordan: Hey @CharissaT and @MarcellusWiley, check out how excited I am about @SportsNation today! http://t.co/1evPwxmzi0
about 23 hours ago

SportsNation

SportsNation


RT @Rufus95_: @SportsNation http://t.co/OaLZrnBhSF
about 23 hours ago

SportsNation

SportsNation


RT @deandrejordan: Hey @CharissaT and @MarcellusWiley, check out how excited I am about @SportsNation today! See ya soon... http://t.co/tWD…
about 23 hours ago

SportsNation

SportsNation


We've got @deandrejordan on the show today. Make a funny meme out of this & we might post it on the show! http://t.co/W8zFpzdwS0
1 day ago

SportsNation

SportsNation


The @Twins held Sandlot Sunday...& Ham and Squintz made an appearance. #90sNostalgia. Where was Wendy Peffercorn? http://t.co/lPUFkZNZl3
1 day ago

SportsNation

SportsNation


A quick look at the golf course this morning ... http://t.co/vbfRFNJGCp
1 day ago

SportsNation

SportsNation


Miguel Cabrera might not hail from planet earth.
1 day ago