Philip Rivers and the Chargers are still in the AFC West race after the quarterback's big night in a 38-14 win against the Jaguars on Monday, but they have a lot of ground to make up on the Broncos and Raiders. Does Rivers also have ground to make up in the race for top quarterback honors in the division? Rank 'Em: NFL Power Rankings
"What's the best finish you SD fans can honestly envision on these last four? How does the battered SD O-line get ready for Baltimore? Detroit? Can SD even make the finale in Oakland anything more than a spoiler game?" -- SN commenter MC3DPCS
"Tebow stinks. I mean, he's only won five in a row (first time since Elway played in Denver). The guy is a winner, period. I'm a Falcons fan and would take Tebow as our QB in a second. " -- SN commenter alyssafaithbaer
---
Which quarterback rules division?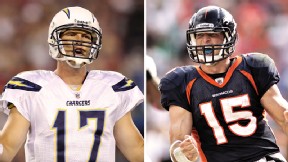 Rivers has the history but only an 84.9 QB rating this season. Tim Tebow's rating is only 87.9, but he has that 6-1 record as a starter.

---
Which road ahead is toughest?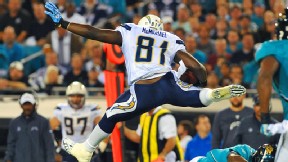 The Broncos and Raiders are 7-5, while the Chargers and Chiefs are 5-7. But does the schedule bode ill for one of the chasers?