---
Last team standing?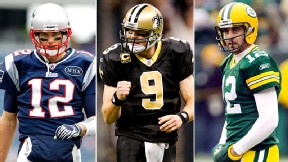 SportsNation is picking the Patriots (65%), Ravens (75%), Packers (67%) and Saints (66%) to advance to the conference finals.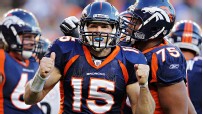 Where do the Broncos rank?
How would you rank the remaining NFL playoff teams?
The Broncos showed their resiliency with a hard-fought, overtime win against the Steelers behind Tim Tebow's season-high 316 passing yards. Meanwhile, the Texans won their first playoff game in franchise history riding on the shoulders of wide receiver Andre Johnson and rookie quarterback T.J. Yates.
Over in the NFC, the Saints put up 45 points on the Lions as Drew Brees threw for 466 yards, placing him second only to Bernie Kosar for most passing yards in a playoff game. The Giants dominated the Falcons through the air and on the ground while Big Blue's defense held Atlanta's offense scoreless.
With the No. 1 and No. 2 seeds back in action, which team do you think is the favorite to win the Super Bowl?
Cast your vote now! You must submit at least FIVE for your votes to count!


NFL divisional playoff teams

49ers

49ers
Regular season: 13-3

Broncos

Broncos
Regular season: 8-8
Wild-card: defeated Pittsburgh 29-23 OT

Giants

Giants
Regular season: 9-7
Wild-card: defeated Altlanta 24-2

Packers

Packers
Regular season: 15-1

Patriots

Patriots
Regular season: 13-3

Ravens

Ravens
Regular season: 12-4

Saints

Saints
Regular season: 13-3
Wild-card: defeated Detroit 45-28

Texans

Texans
Regular season: 9-6
Wild-card: defeated Bengals 31-10
Your Rankings
1.

2.

3.

4.

5.

6.

7.

8.

BEST OF THE BEST
Best dancers?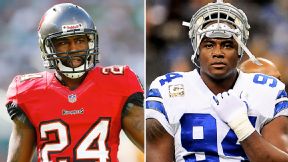 Which player has a brighter NFL future: Darrelle Revis, or DeMarcus Ware? Vote! »