---
Tobacco Road or Iron Bowl?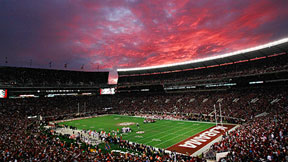 Alabama's championship makes it three in a row for the state. But is Alabama's football better than North Carolina's basketball, including 11 titles between Duke, North Carolina and NC State?

What is college football's all-time flagship program?
Alabama's second national championship in the past three seasons makes it the program of the moment, and there is plenty of history beyond that in Tuscaloosa. But is Alabama the all-time No. 1? Below you'll find the 10 programs with the most all-time wins, along with five other programs that won national titles in the BCS era.


Greatest football programs

Alabama


Auburn


Florida


Florida State


LSU


Miami


Michigan


Nebraska


Notre Dame


Ohio State


Oklahoma


Penn State


Tennessee


Texas


USC

Your Rankings
1.

2.

3.

4.

5.

6.

7.

8.

9.

10.

11.

12.

13.

14.

15.

Tags:
NCF, Alabama Crimson Tide, Auburn Tigers, Florida Gators, Florida State Seminoles, LSU Tigers, Miami (FL) Hurricanes, Michigan Wolverines, Nebraska Cornhuskers, Notre Dame Fighting Irish, Ohio State Buckeyes, Oklahoma Sooners, Penn State Nittany Lions, Tennessee Volunteers, Texas Longhorns, USC Trojans