If you missed some of these links earlier in the week, they might prove to be a good way to ease the clock on toward quitting time.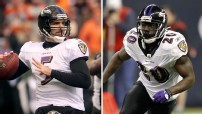 The week's best polls ...
1. Was Ed Reed out of line or on the money?
2. Did the Rangers land an ace with Yu Darvish?
3. Are Rob Lowe's tweets a credible news source?
4. Did Jim Caldwell deserve another chance?
5. Was Alex Smith better than Eli Manning last week?
6. Is Syracuse the team to beat in men's hoops?
The week's best rankers ...
1. Who are the greatest sports figures of all time?
2. Who are the greatest 3-point shooters ever?
3. Who are this season's best college basketball players?
4. Who should Coach K pick for Team USA?
5. Which offense, defense or special teams unit rules?
6. What is the balance of power in the NHL?
The week's best quizzes ...
1. Pro Bowlers drafted after Alex Smith in 2005?
2. Nations with Olympic basketball medals?
3. Recent Australian Open champions?
4. Teams that almost made Super Bowl?