---
Ready for more Giants vs. Patriots?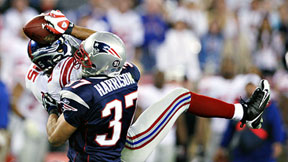 Are you ready for two weeks of hearing about Super Bowl XLII? Someone find David Tyree. Does a rematch of a great Super Bowl make this Super Bowl more compelling?

---
Does a rematch matter on the field?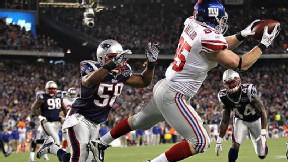 Of course, these teams played more recently than Super Bowl XLII. Does a 24-20 win for the Giants in Week 9 give them a blueprint for success?

---
Does a field goal sound about right?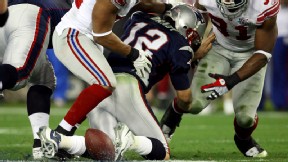 Speaking of Super Bowl XLII (and we're going to be doing a lot of it), oddsmakers are betting on another close game -- or hoping you will.

---
Is this a fair fight at coach and QB?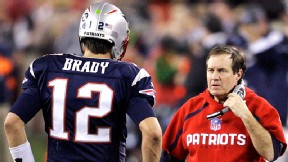 Bill Belichick and Tom Brady are widely regarded as among the best, if not the best, at their respective jobs. But does either have a big edge on his counterpart in Indianapolis?

---
What's on the line for Eli Manning?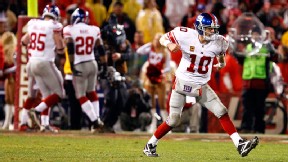 Speaking of stories you'll hear a lot about in the next two weeks, Eli Manning could pass his brother in Super Bowl rings on Peyton's field. But does two rings equal Canton?

---
Which team is SportsNation's team?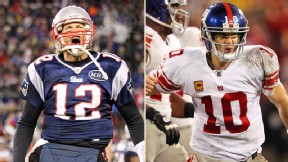 The Patriots are a dynasty with the league's No. 31 defense this season. The Giants are a big name with a small win total. Who are you rooting for?

SportsNation

SportsNation


TIM DUNCAN #GODMODE
about 5 hours ago

SportsNation

SportsNation


Tony Allen, your Oscar winner for Best Flagrant Drawn
about 5 hours ago

SportsNation

SportsNation


You heard Jeff Van Gundy say it! Time to start the official campaign! #PutTMacInTheHallOfFame
about 6 hours ago

SportsNation

SportsNation


Charles Woodson is BACK in the Raider silver and black! http://t.co/SnoxCeSep1
about 7 hours ago

SportsNation

SportsNation


The Cavs come out of nowhere to win the No. 1 overall pick! Will @NerlensNoel3 end up in Cleveland? http://t.co/NNgFx2v5FP
about 8 hours ago

SportsNation

SportsNation


THE CHARLOTTE HORNETS ARE BACK!!! http://t.co/r1vaRWUk5y
about 10 hours ago

CharissaT

Charissa Thompson


Welp. I think that went well. For him. Not me. http://t.co/RMBAfyVMvG
about 11 hours ago

marcelluswiley

Marcellus Wiley


RT @BigmistasBBQ: @Willardradio @marcelluswiley Operation BBQ Relief is feeding survivors in OK now.Please donate and please RT! http://t.c…
about 11 hours ago

SportsNation

SportsNation


This is how you avoid a catcher at the plate... but don't avoid our show!! Tune in NOW! - http://t.co/t7HgbOVuWb
about 13 hours ago

kevinwildes

Kevin Wildes


RT @redcrossokc: Hal Smith on behalf of @KDTrey5 delivers the Kevin Durant Family Foundation $1 million gift. Thanks KD. #oklahoma http://t…
about 15 hours ago

CharissaT

Charissa Thompson


Me too. KD. Class Act. RT @Melanie_Collins Love to see this RT @dailythunder Durant donates 1million to the Red Cross for disaster relief
about 16 hours ago

CharissaT

Charissa Thompson


And this is why I love sports... #RobinsonCano doing good things for kids http://t.co/5sLnzWXNAT
about 16 hours ago

SportsNation

SportsNation


Alonzo Mourning weighs in on the LeBron vs. MJ debate. http://t.co/0Mwgs24q0f
about 16 hours ago

kevinwildes

Kevin Wildes


Zach Lowe on Heat Pacers...makes you much smarter - Ten Burning Questions in Miami http://t.co/RMmDRduG3V
about 18 hours ago

SportsNation

SportsNation


In case you missed @deandrejordan's Dunk of the Year on Brandon Knight, he re-enacted it on our show today: http://t.co/G6xrpAllST
1 day ago

SportsNation

SportsNation


You can get dunked on ANYWHERE: @CharissaT gets posterized in the hallway by @deandrejordan: http://t.co/bSybvxkPq6
1 day ago

SportsNation

SportsNation


We've got a @BrandonKnight07 cutout and @deandrejordan on our show. Guess what will happen next... http://t.co/kl5Z7qzvcl
1 day ago