Peyton Manning made a stop in Arizona during his "I am a Hall of Fame quarterback who needs a job" tour of America. The Cardinals seem to be quite interested in Manning, and have reportedly emerged as favorites to sign him, along with the Denver Broncos. Manning is clearly better than both Kevin Kolb (who has an option bonus coming up soon that the Cardinals need to make a decision on) and Tim Tebow (who is still under contract), but will he end up taking either quarterback's job?
---
A better fit?
Don't get all excited; this is only a clever Photoshop job. Peyton Manning hasn't signed with the Broncos or anybody just yet.

---
Tebow or Kolb?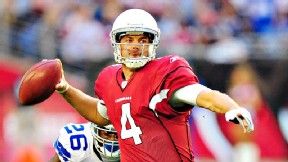 Kevin Kolb's season ended a bit early, but the Cardinals seemed mostly satisfied with his performance after a rough start. Tim Tebow's season, of course, needs no further explanation.

---
Tebow's future?
Tebow, unlike Kolb, is still under contract for next season, and his miracle run in 2011 would leave the Broncos in a bit of an awkward position if they sign Manning.