Phillies pitcher Cole Hamels will serve a five-game suspension for intentionally throwing at Nationals left fielder Bryce Harper. Does Hamels deserve to be punished for his actions?
---
Good intention?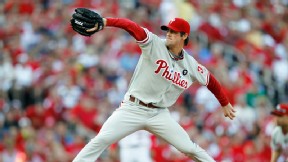 Cole Hamels used an old school way of welcoming 19-year old rookie Bryce Harper to Major League Baseball by purposely throwing at him.

Fans' take on Cole's suspension:
rustyburg: "Haha...5 game suspension for Cole...that's MLB knowing they had to do something, but doing nothing at the same time. 5 games essentially means the Phils push back Hamels next start one day."
Jaysfan724: "Suspension was deserved, only gets his start pushed back one day...no big deal all around, that's baseball, lets move on. "
evilgom: "I can't believe he's suspended for admitting it. So zimmerman gets away with it because he didn't admit? What a great way to teach our children. Go MLB."
RG3s Socks cannot be banned: "i dont think he was suspended for hitting him on purpose. he was suspended because of his stupidity"
tempdaddy05: "Lesson learned for anyone who wants to play in the MLB. The truth gets you suspended and lying puts in you in record books."



Join the conversation or respond by signing in or creating a profile and blogging.