---
Which team wins?
The Kings took care of the Blues in four games, while the Coyotes needed a mere five contests to knock off the Predators.

---
Vermette or Brown?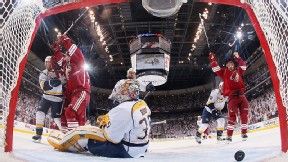 Antoine Vermette had a quiet semis after a hot quarterfinals, while Dustin Brown's two goals in the finale were key in L.A.'s win over St. Louis.

---
Smith or Quick?
Mike Smith and Jonathan Quick sported near-identical save percentages in the semifinals.

---
Tippett or Sutter?
Both Dave Tippett and Darryl Sutter are looking for their first Stanley Cup titles.

---
A future in Phoenix?
The Coyotes are close to an official sale, but that doesn't necessarily mean they'll make a permanent home out of Phoenix.