Which team will win the NFC West? Will Randy Moss return to form? Do the Seahawks have a QB controversy? Tune in to "SportsCenter Special: NFC West Preview" (7 p.m. ET, ESPN2) on Tuesday, for answers from ESPN's NFL experts and cast your votes in the polls below.
---
Who will win the division?
The NFC West has been won by three different teams the past three years. Is it finally the Rams' turn, or can San Francisco repeat?

---
Alex Smith among the elite?
The 49ers QB was nearly jettisoned before the 2011 season, but instead he had a career year. Can he follow it up with bigger things in 2012?

---
Back in the Bay Area
Randy Moss's last stint in the Bay Area didn't go well. The 49ers are hoping for "New England" Randy, not "Oakland" or "Tennessee" Randy.

---
Change of scenery
New Rams coach Jeff Fisher won 142 games with the Oilers/Titans franchise, but this will be his first season coaching a different team.

---
Seattle signal-caller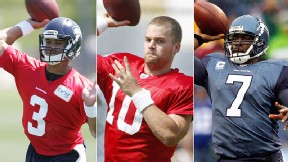 The Seahawks signed Matt Flynn and drafted Russell Wilson, giving incumbent QB Tarvaris Jackson plenty of competition this summer.