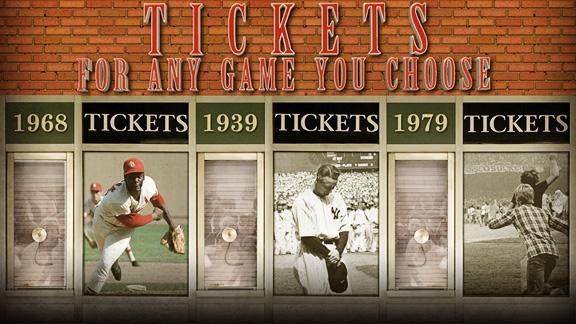 When SportsNation finally builds a time machine -- go ahead, laugh now -- there's already a long list of destinations on our flight plan. That's because you, the fans of SportsNation, have taken the idea of going back in time to see any baseball game and come up with great ideas. Some are historic. Some are infamous. Some come with personal reasons. All of them are worthy. Here's a sample:
chadecox@att.net: "Sept 9, 1965 Sandy Koufax's Perfect game against the Cubs. Bob Headley pitched a 1 hitter and lost."
PNCParkisaCathedral: "Hasn't been brought up yet- Game 7 of 1946 World Series, Cards/Red Sox. This is the game Dom DiMaggio tied in the 8th and then Enos Slaughter scored from first on a single to centerfield. .. The dispute over whether Johnny Pesky "held the ball" on the relay to home was legendary part of the Red Sox curse."
NPTOZI: "How about any of the "thrown " games in the 1919 World Series by Shoeless Joe Jackson and the "Black Sox." Did Jackson and Buck Weaver actually throw the games? Or did they just get a bum wrap and thrown in with the rest of the guys who were bought? To see how the fans react to that situation would be unforgettable!"
cinti fan: "Johnny Vander Meer's 2nd game of his back to back no hitters."
warrenb2972: "I'd take Game 5 of the 1908 World Series...at least I could say I saw my Cubs win a World Series..."
thebreaks6137: "Game 1 of the 1988 World Series. Kirk Gibson's walk off."
RAFHORN: "1972 Orioles v. Texas Rangers at the old Arlington stadium, don't remember the date, don't remember the result. I was 10 years old, my first mlb game, first year of the Rangers in Texas. Mike Cuellar pitching, Brooks Robinson and Boog Powell in the lineup for the O's, Ted Williams managing the Rangers, don't remember much else. I've simulated the game in Strat O Matic but I wish I could remember more of the actual game. And game 3 of the '32 series, Ruth's 'called' shot."
badspelllr: "The 'ten cent beer night' forfiet in 74(?) Texas at Cleveland. Cleveland drew many times over its average attendence that night, and they weren't there for the baseball. This event marked the last discount beer promotion in the history of the game and is therefore my last chance to save."
BucsFaninBuffalo: "Roberto Clemente's 3,000th and final hit. Watching him stand on second base and tip his cap, I'd be bawling my eyes out."
psalvatori001: "Without a doubt, October 13, 1960, Game 7. I was all of 1 year old at the time. My dad went to that game and to put myself in the seat next to him for the greatest game in Pirates history would be really cool."
ZenStudent1968: "Cubs vs. Giants, the one game playoff of 1908. The photo remaining shows people hanging on telegraph lines to watch--and it looks like more than 100,000 are there watching. Brown vs. Mathewson with everything on the line..."
Knowitsome: "Happy to see Disco Demolition Night get some props. Steve Dahl would be proud!"


Join the conversation or respond by signing in or creating a profile and blogging.