September 20, 2012
Sep
20
Stephon Marbury told ESPN New York that he doesn't think Knicks stars Carmelo Anthony and Amare Stoudemire are a good fit together. In their season and a half together, the Knicks have a sub-.500 record when both are in the starting lineup. Who is the Knicks' best player? And do you agree with Marbury? Cast your vote!
---
Knicks big three
The Knicks have a trio of stars, but only center Tyson Chandler has a championship ring.

---
Winning the press conference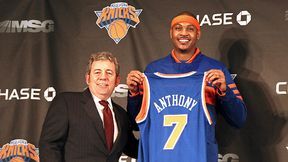 Stephon Marbury said James Dolan may have been more motivated by money than wins when trading for Carmelo Anthony.