Rookie
Quarterback
Week 8
Grade
Average
Grade +/-
Robert Griffin III
C
B-
Andrew Luck
B
B-
Ryan Tannehill
C
C+
Brandon Weeden
C
C
Russell Wilson
B
C+
Andrew Luck came to play Sunday against fellow rookie quarterback Ryan Tannehill and the Dolphins. Luck completed 62 percent of his passes for a rookie-record 433 yards and two touchdowns as the Colts stretched their winning streak to three games.
But there was more than just one record-setting performance by a first-year quarterback Sunday. Russell Wilson threw three touchdowns against the Vikings, pushing his season total to 13,
a Seahawks rookie record.
Each week we'll give you, SportsNation, the chance to rate each rookie quarterback. How did they do in Week 9?
---
Griffin's grade?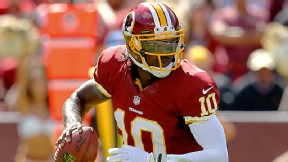 Week 9 stats: 23-for-39, 215 pass yards, 53 rush yards in a 21-13 loss to the Panthers.

---
Luck's grade?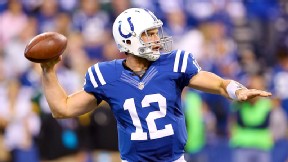 Week 9 stats: 30-for-48, 433 yards, 2 TDs in a 23-20 win over the Dolphins.

---
Tannehill's grade?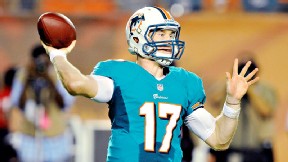 Week 9 stats: 22-for-38, 290 yards, TD in a 23-20 loss to the Colts.

---
Weeden's grade?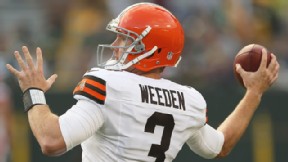 Week 9 stats: 20-for-37, 176 yards, 2 INTs in a 25-15 loss to the Ravens.

---
Wilson's grade?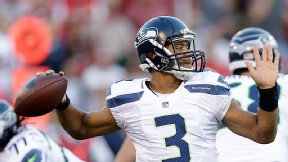 Week 9 stats: 16-for-24, 173 yards, 3 TDs in a 30-20 win over the Vikings.

marcelluswiley

Marcellus Wiley


I am Clipper Darrell http://t.co/LPKTEMeg8m
about 4 hours ago

marcelluswiley

Marcellus Wiley


RT @DodgerHogs: @clipperdarrell yo @marcelluswiley tryin to steal your swag bro! #Clippers #NBA @SportsNation http://t.co/FaIhmRgtAb
about 4 hours ago

Max_Kellerman

Max Kellerman


.@SerenaWinters @marcelluswiley like the crocodile's, it's a strategy so perfect it hasn't needed to evolve in 300,000,000 yrs. #crocodiling
about 6 hours ago

marcelluswiley

Marcellus Wiley


.@KlayThompson going at @blakegriffin32 4 flopping. Blame refs who make calls & not the player who takes advantage of it #LightonLightCrime
about 7 hours ago

Max_Kellerman

Max Kellerman


.@iLEx_006 @joerogan we're going to get it together, but I like to keep it 90. Need a little wiggle room.
about 9 hours ago

Max_Kellerman

Max Kellerman


RT @marcelluswiley: White guy is rapping (explicit) songs playing on the stereo at my gym and is yelling out the "n" word. What should I'v…
about 9 hours ago

marcelluswiley

Marcellus Wiley


White guy is rapping (explicit) songs playing on the stereo at my gym and is yelling out the "n" word. What should I've done? #ESPNLA710
about 10 hours ago

MichelleDBeadle

Michelle Beadle


I am a victim. #leroyjenkins http://t.co/tq3aggbPTR
about 10 hours ago

MichelleDBeadle

Michelle Beadle


And it's not even Friday. #LeroyJenkins https://t.co/62vSfsZAHp
about 10 hours ago

MichelleDBeadle

Michelle Beadle


LA ain't ready for this. #leroyjenkins https://t.co/af0HfkbC67
about 12 hours ago

SportsNation

SportsNation


T-MAC PITCHES! .@Real_T_Mac, the baseball pitcher, makes his pro debut: http://t.co/UXEXITH2HC http://t.co/sIe2eNrOmR
about 13 hours ago

MichelleDBeadle

Michelle Beadle


So smoove RT@Rickafox: "We got one eye watching you" #MajorMinusMe #SportsNation is one #ColdPlay w/ michelledbeadle… http://t.co/JtNcCZyTAr
about 13 hours ago

SportsNation

SportsNation


Duke fans reacted after Jabari Parker declared for the NBA draft. Our show is on now. ESPN2 (via @guzman_tori) - https://t.co/GpVptpbD5e
about 13 hours ago

SportsNation

SportsNation


Jabari Parker has officially declared for the draft! NBA GMs be like.. http://t.co/iUdEOTf19v
about 15 hours ago

MichelleDBeadle

Michelle Beadle


Penny is my mom's puppy. She heads to Italy in a couple weeks. #luckydogs @EdmarkRyan: @MichelleDBeadle hey what happened to penny?
about 15 hours ago

Max_Kellerman

Max Kellerman


.@tpark213 well, it's sometime before the start of next season right now, so this counts as the text.
about 15 hours ago

Max_Kellerman

Max Kellerman


.@Max_Kellerman snspacer31 @KINGSKRIB @AllAboutLuv_ @Yankees not at all. Been saying #Yankees going to pitch.
about 16 hours ago

Max_Kellerman

Max Kellerman


.@AllAboutLuv_ @KINGSKRIB @Yankees yes. Problem is infield production & depth & high leverage relief pitching other than Robertson.
about 16 hours ago

SportsNation

SportsNation


Patrick Beverley of the Rockets has 99 coordination (via @HoustonRockets) - https://t.co/iuwKLimwSY
about 16 hours ago

Max_Kellerman

Max Kellerman


.@Max_Kellerman RicanJuan @KINGSKRIB @AllAboutLuv_ @Yankees unless Kuroda finally gets old, if Nova pitches well, CC is the 5. #realtalk
about 16 hours ago