After two months of labor negotiations that have gone nowhere, NHL commissioner Gary Bettman proposed that the league and its players' association take a two-week moratorium from talks. Will a break from discussions help both sides regroup and come back to the bargaining table refreshed, or is it just delaying the inevitable of a canceled season?
---
Timeout from talks?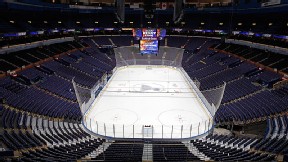 The NHL has canceled 327 games through Nov. 30, so a break in communication now may not be in the best interests of either side.


wi11Thomas: "The NHL should just come out and tell the NHLPA that there will NEVER be an offer on the table better than the one that's on now. As this drags out, the value of the league goes down...therefore, the amount the league is willing to pay the players goes down as well."
Keviny0102004: "How can you take a two week break from nothing?"
jbfox508: "Instead of suggesting a moratorium from negotiations, Bettman should tender his resignation. If this doesn't get resolved soon, it will soon be 2 seasons cancelled in the last 10 years. If any business ran the way Bettman runs the NHL, they would be out of business."
Full Metal Hockey: "Two-week moratorium = Gary Bettman can't handle the pressure. He's losing it."
maddog0500: "I sure hope that basketball is entertaining because hocky is over for 2012-2013, and they may have a long, diffucult road to recover their fans."

Join the conversation or respond by signing in or creating a profile and blogging.