UCLA got more than revenge against its crosstown rival on Saturday. The Bruins earned the Pac-12 South title and staked a claim to college football supremacy in the City of Angels with their 38-28 victory against USC -- their first win over the Trojans since 2006. For UCLA, the future holds the Pac-12 championship game and possibly a BCS bowl bid. For the Trojans, the disappointment of a four-loss season that started with a preseason No. 1 ranking has some wondering if Lane Kiffin should still be the coach.
---
Something is Bruin in Westwood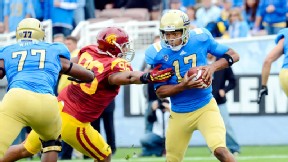 Redshirt freshman QB Brett Hundley (22-of-30, 234 yards, TD) was one of several bright spots for UCLA.

Does USC need a change?
64Phil: "They'll keep Kiffin around for another year. But one more 8-4 or 7-5 season, and he'll be gone."
NTCal01: "The problem with USC has been the defense. They scored 36 points against Arizona, 51 against Oregon and 28 today and LOST all 3 games. That's not on the offense. If the defense had been able to keep teams to 27 or less they'd have gone 3-0 in those games instead of 0-3. Maybe Monte should go?"
vtjb9054: "Congratulations ucla you did Pat Hadens Dirty work KIFFIN HAS TO GO PERIOD. I'm a USC homer but your team played a great game, that says a lot for the team and especially for the new coaching staff. time for Haden to make that call to John Gruden if he hasn't already."
mvduckfan: "Don't really think a Gatorade shower on Mora was warranted. It was a great win for the program, and certainly a field-stormer, and happy for you, but a Gatorade shower for winning the PAC-12 south I'm not sure about that."
rtressel1: "Lane Kiffen needs to be fired. it is the responsibility of the head coach when teams are picking up first downs when they have a 3rd and 15. If Lane is not fired then his dad needs to get the ax. This team has too much talent to be losing like this."
longhair joe: "as long as lane kiffin remains at USC the program glory days are OVER, get used to it."


Join the conversation or respond by signing in or creating a profile and blogging.