Rookie
Quarterback
Week 10
Grade
Average
Grade +/-
Robert Griffin III
BYE
B-
Andrew Luck
B
B
Ryan Tannehill
C
C+
Brandon Weeden
BYE
C
Russell Wilson
B
B
Robert Griffin III completed 93.3 percent of his passes for a perfect 158.3 on the traditional NFL passer rating scale in Sunday's win over the Eagles, becoming just the fourth quarterback in the past five years to do that in a game. Andrew Luck and Ryan Tannehill threw more interceptions than touchdowns and joined Brandon Weeden as all three of their respective teams lost on the road.
Each week we'll give you, SportsNation, the chance to rate each rookie quarterback. With Russell Wilson on a bye week, how did his fellow
neophytes do in Week 11?
---
Griffin's grade?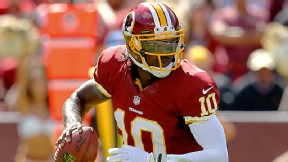 Week 11 stats: 14-for-15, 200 pass yards, 4 TD, 84 rush yards in a 31-6 win over the Eagles.

---
Luck's grade?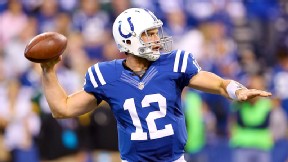 Week 11 stats: 27-for-50, 334 yards, 2 TD, 3 INT in a 59-24 loss to the Patriots.

---
Tannehill's grade?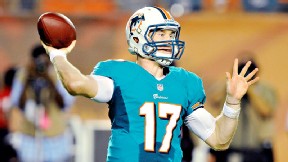 Week 11 stats: 14-for-28, 141 yards, TD, 2 INT in a 19-14 loss to the Bills.

---
Weeden's grade?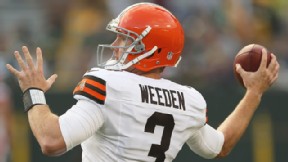 Week 11 stats: 20-for-35, 210 yards, 2 TD in a 23-20 loss to the Cowboys.