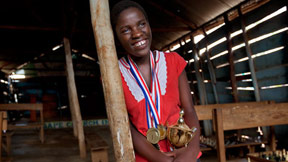 At 9, Mutesi learned chess, through the Sports Outreach Institute.
Welcome to SportsNation! On Friday, chess prodigy Phiona Mutesi stops by to chat about her journey from the slums of Katwe, Uganda to becoming a Woman Candidate Master in chess. The book "The Queen of Katwe" by Tim Crothers tells her story in depth.
Mutesi is believed to be 16, but no official birth records exist in Katwe where about half of teenaged girls are mothers and also where her father died from AIDS when she was around 3 years old.
Through chess, Mutesi has won three Uganda women's junior championships, one national championship and made two appearances at the Chess Olympiads, where the world's greatest players compete. Her first Olympiad experience was chronicled by Crothers in his ESPN The Magazine story, which was the catalyst for the book.
Send your questions now and join Mutesi Friday at 10 a.m. ET!
More Special Guests: Previous chats | SportsNation