ESPN NFL Insider Adam Schefter says Kansas State quarterback Collin Klein, who led the Wildcats to a berth in the Tostitos Fiesta Bowl, is unlikely to receive an invitation to the Senior Bowl, where NFL scouts congregate each year to evaluate the highest-rated seniors prior to the NFL draft. Do you agree that Klein doesn't have sufficient potential to deserve an invite? Would his absence at the Senior Bowl hurt his draft stock?
HE SHOULDN'T BE THERE
LonesomeJoe1: As we have seen before, the Heisman is NOT given to the "player most likely to do well in the NFL."
thedude0612 : Collin Klein is a great COLLEGE quarterback but he will not play a single down in the NFL. He doesn't have the skill set. I like the kid but I'm being objective here.
rodneylama: Does anybody seriously think Klein can be a NFL QB??? Have you seen him try to throw??? I do think Klein is talented enough to be a receiving tight end or a big physical possession receiver in the NFL.
snowdomer: I would trust an NFL scout to objectively evaluate a kid versus a newspaper geek who votes for the Heisman. These guys do it for a living. Could he be wrong? Sure. But they know what they want and he is not it. Kid earned his degree and will most likely be a strong leader in the business world (assuming he goes that route) as he was on the football field.
Trey ko: Why would he? He's not an NFL caliber QB and he's too slow to be a slot receiver.
avasic2: On the outset it's obvious to make a case for Klein to be invited, he's a great leader and used the tools he has to dominate the college game at times. The problem here is that he isn't the runner Tebow is, Tebow is faster, runs more physically and is simply bigger than Klein. How people think he can translate into a WR is beyond me as he clearly doesn't have the explosiveness.
HE SHOULD BE THERE
kpuitz: Wait a second. Tim Tebow was given a chance to hone his QB skills at the Senior Bowl and his throwing mechanics were much worse than Klein's. I am a Gator fan and I call shenanigans on this.
Sagesgram: Because we all know that NFL scouts have a 100% success rate at predicting who will and who won't make it in the NFL.
Freemantle13A: Are you kidding me?!?!? He was a Heisman finalist! How many of the QBs invited can say that?
JtruzmaH: Kind of a slap in the face to Klein. He deserves to be there.
SoonerKeith7: The folks behind the Senior Bowl need to rename the game to "NFL Scouts Bowl" instead of making it sound like the players are being invited as a reward to a good four years of college football. Just call it what it is, and I think more folks would be fine with the invitation process.
KARNOWSKI47: That is the most insulting thing to do to a kid that has worked his tail off and proven himself week in and week out. He will still be successful no matter what happens, but that is still very insulting. Why does everybody hate K-State? What did this hard working and extremely loyal kid ever do to all these people that control college football? Pathetic.
Join the conversation or respond by signing in or creating a profile and blogging.
---
Sitting by the phone?
The Senior Bowl may sound like a fun reward for players, but in actuality it is big business for NFL scouting departments looking for pieces to fit a complex puzzle.

---
They invited him?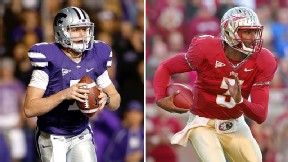 While debating the credentials of Klein many ESPN.com commenters brought up Florida State's EJ Manuel, who has received an invite, as a player less deserving than Klein.

---
Does it matter?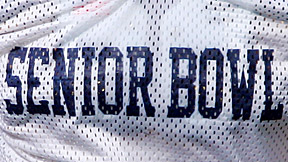 Many projected top picks will skip the Senior Bowl to avoid potentially hurting their draft stock. But for a projected low pick, the Senior Bowl can be a platform on which to shine.

---
Klein's future?
Klein passed for 4,008 yards and 28 touchdowns in his past two seasons and nearly led the Wildcats to the BCS title game this season before they were blown out by Baylor.