This NFL season has not been short on amazing performances. Whether it is Peyton Manning returning to form, Wes Welker becoming the first player with five seasons of at least 100 receptions or rookie quarterbacks masquerading as veterans, the regular season has been one nonstop highlight reel. We're also on the verge of three significant single-season records being broken. Eric Dickerson (rushing), Jerry Rice (receiving) and Michael Strahan (sacks) may all see their names replaced in the record books if the final two weeks of the season live up to the first 15.
---
Rushing record
Peterson will travel to Houston in Week 16 (5th in rushing defense) and face the Packers at home in Week 17 (14th in rushing defense). He has averaged 129 yards per game this season and 164 for his past eight games.

---
Receiving record
Johnson will face the Falcons in Week 16 (16th in receiving defense) and the Bears in Week 17 (7th in receiving defense), both at home. He has averaged 119 receiving yards per game.

---
Sacks record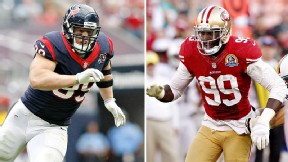 Watt's Texans face the Vikings at home in Week 16 and the Colts on the road in Week 17. Smith's 49ers travel to Seattle in Week 16 and have the Cardinals at home in Week 17.

---
Just a matter of time?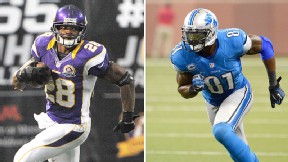 Peterson hasn't been shy about saying he believes he will break the single-season rushing record with the help of his offensive line. Johnson has been his usual quiet self.