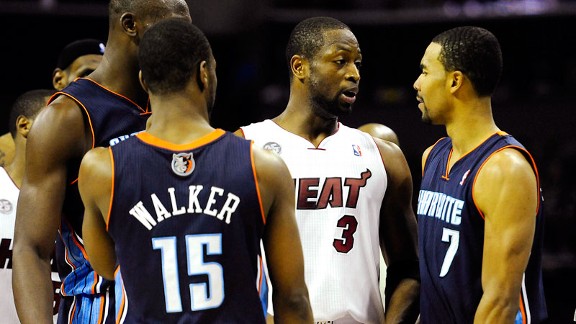 Dwyane Wade drew the ire of the Bobcats during Miami's 105-92 win on Wednesday night when he appeared to knee Ramon Sessions in the groin after being fouled. Nothing was called on Wade on the play, but a scrum broke out and the league is reviewing the incident. It's not the first time Wade has been involved in a questionable play. He committed a scary flagrant foul on Darren Collison in the playoffs last season, and broke Kobe Bryant's nose in the All-Star Game. So is Wade a dirty player?
tnayshuss: "Wade kicks Sessions in the [groin] in front of the ref. Ref does nothing. I am done with this NBA."
kreator78: "If you actually watched the play, then you'd know that it was a follow-through move."
nathanbakerdabomb: "it shoulda been a T, but it wasn't much of a kick more of a get of me shove"
elchupanibre8: "It was an accident bro, Wade was running full speed and his knee caught him."
HeatFan9876: "No one know for sure whether or not Wade intentionally kicked Sessions. To me it looked like he did, but Sessions still tried to sell it. If he was kicked as hard as the way he fell down, there is no way he could get up so quickly. "
Heat2218: "I'm a heat fan and I think that was very dirty"
Join the conversation or respond by signing in or creating a profile and blogging.