It's no surprise to longtime boxing fans to hear Floyd Mayweather admit that he handpicks every opponent he fights. Mayweather's status as an undefeated champion has always been incredibly important to him, but Robert Guerrero seems pretty confident that he'll be the one to ruin Mayweather's legacy. Of course, he wouldn't be the first fighter to find his plans of foiling Mayweather ruined by the champion's near-impenetrable defense, but we'll have to wait until Saturday to see whose prediction will bear out.
---
Pro- or anti-Floyd?
Mayweather is the clear favorite in this matchup, which gives fans of underdogs a pretty clear reason to root for Guerrero.

---
Mayweather's legacy?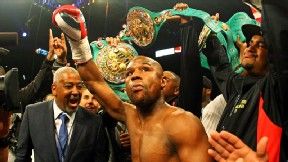 A Mayweather-Manny Pacquiao matchup seems incredibly unlikely at this point, which doesn't leave many legitimate opponents to really challenge Mayweather.