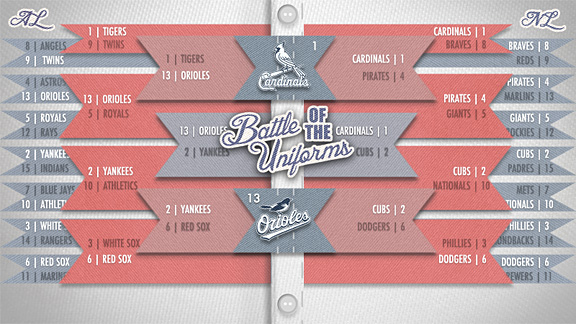 As fans of the comedy series "Portlandia'' know, the secret to merchandising is to slap a bird on it. And apparently, the same holds true for baseball uniforms.
After four rounds of voting, tigers, fish, elephants, snakes, astronauts, seafarers, gun-toting officers of the law, buccaneers, heavenly bodies, Native Americans, pinstriped Northeners and even two pairs of colored socks are all gone. Our Battle of the Uniforms will finish with the Battle of the Birds.

The No. 1-seeded Cardinals, who have as iconic a St. Louis design as the Gateway Arch or a bottle of Bud, beat their longtime rival, the Chicago Cubs, in the final round of the National League voting, 54 percent to 46 percent.
Meanwhile, the Cinderella team of the American League bracket upset yet another higher-seeded team in the AL championship. By a margin of 3,103 votes, fans declared they prefer the orange and black Baltimore Orioles over the traditional uniform worn by everyone from Babe Ruth to Derek Jeter. Or perhaps fans just hate the Yankees' pinstripes.
Whatever the reason, it's the Cardinals versus the Orioles for the title of baseball's best uniform. Bird watchers should get their binoculars out for this ornithological fight, though Toronto fans are probably wondering why their colorful Jay was found wanting.
This is serious business, so to make sure that everyone gets a chance to take a long, careful look at these two uniforms and judge the colors, logos, caps and overall style of both home and road uniforms, our polls will be open throughout the weekend. You can cast your vote up until noon ET Monday, when we will declare the winner.
So good luck Cardinals and Orioles. May the better uniform win. And remember voters, this isn't about who actually wears the uniforms but the uniforms themselves.
--Jim Caple
Note: Championship-round poll closes at noon ET Monday.
Mobile users: To vote, click here.
Battle of the Uniforms: Championship
---
(1) Cardinals vs. (13) Orioles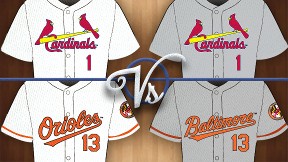 Audubon would have loved this championship.

Battle of the Uniforms seedings
| | American League (Jim Caple) | National League (Paul Lukas) |
| --- | --- | --- |
| 1. | Clean, classic and wonderful. Old English "D" is baseball's equivalent of George Clooney on red carpet. | The best uni set in the sport got even better this year, as the Cards added a gorgeous retro alternate. |
| 2. | Home uniforms with Tiffany-designed NY are as sharp as it gets, but so-so road uniforms bring ranking down a notch. | Word through the grapevine is that the Cubbies may have new unis in 2014, so enjoy these beauties while you can. |
| 3. | Best makeover in history goes to these crisp unis with great black SOX logo from Winning Ugly days. | Fun fact: The Phils have never worn the word "Philadelphia" on their uniforms. |
| 4. | The orange is a great touch that really pops. At least Houston fans have something worth looking at. | The team's perpetual on-field woes have led this uni set to be overlooked and underrated. |
| 5. | Dazzling blue-against-crisp-white home jerseys knock my stirrups off. Blue jerseys make my head hurt. | Defending World Series champs are the only MLB team to have two different sets of road grays. |
| 6. | I like the traditional home jersey; also a fan of the road jerseys (but preferred when there were no names on back). | One of the fundamental mysteries of the uni-verse: Why are the Dodgers' front uni numbers red when there's no other red in their uniform set? |
| 7. | After the many changes, Toronto got it right. The bright red maple leaf in the blue jay really sets off the home jersey. | Note to the Wilpons: A blue alternate jersey is fine, but having two separate blue alternates -- one for home and one for the road -- is overkill. |
| 8. | Overall good, clean look, but what makes these uniforms stand apart is the old TC logo on the cap. | Blue alternate, red alternate and retro alternate equals a mess. Solid home whites and road grays, though. |
| 9. | Could offset red with a splash of some other color, but it works well enough. Like the halo around the A. | Have never fully recovered from the Reds' infusion of black into their look. |
| 10. | Lesson from Oaklandia: When you have an otherwise bland uniform, just put an elephant on it. | Team's fortunes have risen, but the uniforms still feel a bit generic and piecemeal. |
| 11. | There is nothing wrong with them but nothing particularly special, either. But at least there is no upside-down trident. | The plethora of alternates (navy, gold, throwback, etc.) can't hide the fact that the chest insignia still looks like the logo from "Cheers." |
| 12. | I like the "Rays" across the chest, but otherwise this is a rather forgettable look. | If only they'd stop wearing that accursed black vest with the black undersleeves. |
| 13. | Always liked the orange-and-black scheme, but the white-paneled cap is a bad, bad look from the '70s. | One day maybe we'll get used to the Marlins' makeover -- but not yet. |
| 14. | Not bad, but a little bland. Of course, Yu Darvish makes it look pretty stylish. | As soon as they put "D-backs" on their chest, you knew what everyone was going to start calling them. |
| 15. | Sorry, when you insist on Chief Wahoo on the cap, you'll be seeded last no matter the rest of the uniform. | A design program that has completely lost its way. |
Tags:
MLB, MLB, Arizona Diamondbacks, Atlanta Braves, Baltimore Orioles, Boston Red Sox, Chicago Cubs, Chicago White Sox, Cincinnati Reds, Cleveland Indians, Colorado Rockies, Detroit Tigers, Houston Astros, Kansas City Royals, Los Angeles Angels, Los Angeles Dodgers, Miami Marlins, Milwaukee Brewers, Minnesota Twins, New York Mets, New York Yankees, Oakland Athletics, Philadelphia Phillies, Pittsburgh Pirates, San Diego Padres, San Francisco Giants, Seattle Mariners, St. Louis Cardinals, Tampa Bay Rays, Texas Rangers, Toronto Blue Jays, Washington Nationals
SportsNation

SportsNation


.@RSherman_25 & @DeAngeloHall23 are exchanging some strong tweets between each other. http://t.co/hVc37bQhhD
about 7 hours ago

Max_Kellerman

Max Kellerman


Max and Marcellus ESPNLA 710am weekdays, 3-7pm PT Download the podcast http://t.co/bICnqQZBfJ
about 8 hours ago

SportsNation

SportsNation


Oklahoma St. - Kansas is done & we're just starting! SN is on! ESPN2 now!
about 11 hours ago

SportsNation

SportsNation


RT @dannypudi: Jump ball! 2:30 pm on ESPN2. Thanks for letting me play @SportsNation @blakegriffin32 http://t.co/Qbh0ZyrT30
about 11 hours ago

Max_Kellerman

Max Kellerman


Great idea. Dan Snyder on wrong side of history here. "@ProFootballTalk: Pelosi: Redskins should lose trademark http://t.co/z1sEdkrdZT"
about 12 hours ago

SportsNation

SportsNation


NFL free agents still available: 1- Julius Peppers 2- Jared Allen 3- Dan Smith (BYU) http://t.co/HIJIfrB8Yy
about 12 hours ago

SportsNation

SportsNation


Hey @KingJames you aren't the only one that people get tattooed on their back! http://t.co/r0dY4s9TKQ http://t.co/RWGsGd5pqd
about 13 hours ago

Max_Kellerman

Max Kellerman


Sorry #Knicks fans/dont worry #Lakers fans if @PhilJackson11 goes to NY Dolan will screw it up. Phil will be back w/LA < 2 yrs #sportsnation
about 14 hours ago

SportsNation

SportsNation


Marcellus and Beadle breaking it down in 2009 #TBT http://t.co/wmJlqguYjW
about 14 hours ago

SportsNation

SportsNation


Pinocchio isn't the greatest motivational speaker. Just ask the Lakers... http://t.co/flTsENmzfG
about 16 hours ago

SportsNation

SportsNation


Eric Decker is going to have to get used to catching passes from Geno this year...http://t.co/XJ4BIVALa4 http://t.co/P9nVejzKgA
about 17 hours ago

SportsNation

SportsNation


After the Eagles traded for for Darren Sproles, Chip Kelly will probably just be yelling "I WANNA GO FAST!" all day.
about 19 hours ago

SportsNation

SportsNation


The Jets signed Eric Decker last night. All they have to do is get Peyton Manning and they'll be all set for next year.
about 19 hours ago

Max_Kellerman

Max Kellerman


RT @LakerNation: Report: Phil Jackson deal with Knicks not done yet; Lakers want Jackson back. READ MORE: http://t.co/oQKQOH7WyZ
1 day ago

Max_Kellerman

Max Kellerman


RT @usatodaynba: All this Phil Jackson-to-the-Knicks talk has Laker Land jealous, as @Sam_amick and @JeffZillgitt write: http://t.co/DDXNiF…
1 day ago

Max_Kellerman

Max Kellerman


RT @TheFightSource: @Max_Kellerman Spitting image... http://t.co/dyJPLOWfnU
1 day ago

Max_Kellerman

Max Kellerman


Face Off http://t.co/7L9mA76SzL
1 day ago

Max_Kellerman

Max Kellerman


RT @LakersNation: Three-time champion, and now, NBA Insider. RT @Rickafox: Official Phil to NY
1 day ago

marcelluswiley

Marcellus Wiley


RT @datguymario: C'mon man @iamMarioRuiz @Max_Kellerman @marcelluswiley http://t.co/CSbYcql6Yy
1 day ago

SportsNation

SportsNation


Gronk's reaction after hearing the Patriots signed Darrelle Revis -> http://t.co/wevQIs8eAh
1 day ago
BEST OF THE BEST
Best dancers?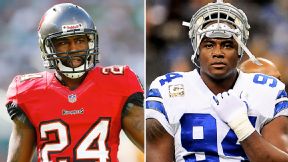 Which player has a brighter NFL future: Darrelle Revis, or DeMarcus Ware? Vote! »