If Kobe Bryant has it his way, he'll be in the starting lineup for the Lakers' 2013-14 season opener. It remains to be seen if his soon-to-be 35-year-old body will cooperate. Bryant told ESPNLosAngeles.com's Dave McMenamin that his Achilles injury is healing and that he still hopes to be back less than seven months after surgery. Will Kobe return in time?
Kobe also stated he wants Dwight Howard to resign with the purple and gold, and would like to talk to him about it. How much influence does he have over Howard's decision?
---
Ready for tip-off?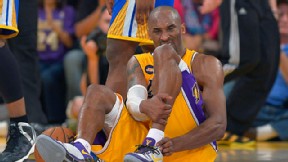 Recovery time from Kobe Bryant's April 13 Achillies surgery was expected to be anywhere from three months to a year. The 2013-14 NBA season tips off in late October.

---
Better than before?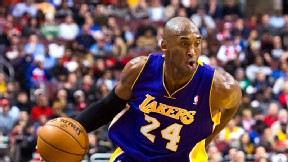 Before his season-ending injury, Kobe Bryant was averaging 27.3 points, 6.0 assists and 5.6 rebounds -- topping the next best PPG average of any player in his 17th season by four points.

---
Back together again?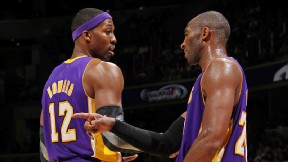 Kobe Bryant wants Dwight Howard to resign, but Dwight is rumored to have shown strong interest in the Rockets and Mavericks.