Confidence is key when entering your rookie season in the NFL, and especially when playing the quarterback position in New York City. Geno Smith displayed his level of confidence by telling the Charleston Gazette "I feel like I have a great shot" when talking about earning the Jets' starting QB job over Mark Sanchez. But Sanchez gives the Jets the best chance at winning right now according to veteran center Nick Mangold. Do you agree?
---
Smith or Sanchez?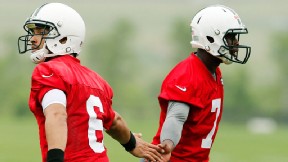 Jets made the playoffs in Mark Sanchez's first two NFL seasons, but have missed the postseason the last two. Is it time to relieve Sanchez of his duties and give Geno Smith a chance?

---
Over/under wins?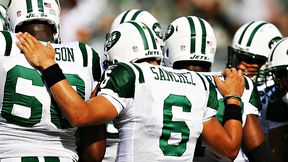 The Jets averaged 8.5 wins a season over the past four years. Will they exceed the expectations of a 6.5-game winning season in 2013?

---
Job security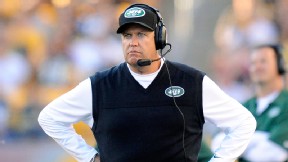 Gang Green has gone 38-32 with two playoff appearances in four years under Rex Ryan.