Tim Hudson took a little while to get into a groove this season, but he was on quite the winning streak before disaster struck Wednesday night. Hudson's ankle was fractured in an 8-2 win over the Mets, when Eric Young Jr. ran out a grounder and stepped on the leg of Hudson, who was covering first. Hudson will miss the rest of the season and will have surgery once the swelling in the ankle goes down. The Braves have a firm grip on the NL East, but losing an experienced pitcher like Hudson may harm them come playoff time.
---
Winning without Hudson?
Hudson has pitched more postseason innings than the rest of the Braves' starters combined.

---
NL representative?
The Braves have allowed the third-fewest runs in the National League, but that ranking could drop significantly without Hudson.

---
No longer an ace?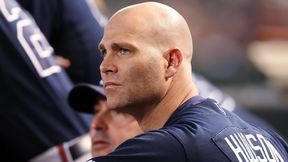 Hudson has been a durable pitcher for a long time, but recovering from such a devastating injury at 38 might be too difficult.