Albert Pujols, infielder for the Cardinals: nine-time All-Star, two-time World Series champion, three-time NL MVP and the accolades go on and on. Albert Pujols, infielder for the Angels: well, let's just say he hasn't been the same since signing a $240 million, 10-year contract in 2011. The former all-everything player is struggling not only at the plate but also with injuries. His latest injury is a partial tear in his left foot, an injury that puts the remainder of the 2013 season -- which will likely end without a postseason berth -- in jeopardy.
---
A decade of ...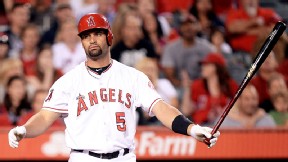 In less than two seasons with the Angels, Albert Pujols is hitting .275 with 47 HRs and 169 RBI.

Joe Ulinski: "Pujols earned that contract from all his previous years, too bad that he's getting paid to perform now, not four year ago."
Andrew Klocek: "Its sad to see him go through such a rough stretch of injuries. In his prime he was better than anyone else in the league now, easily. He had one of the best decades of baseball ever played. Honestly I don't think he will ever be fully healthy again."
Tobey Johnson: "They should just shut him down for the season. It is highly unlikely at the stage that they'll make the playoffs, considering how far back they are right now and how well other teams ahead of them are playing. Get him out, get him healthy for next year and finally start to get the player they paid a quarter of a billion dollars for."
Luke Santhouse: "This is learning it the hard way, no way the Angels give a contract like that ever again. It happened with my Sox and they learned their lesson maybe LAA will too."
Pablo Goldstein: "Who would've thought giving a 10 year contract to a guy with 11 years in the bigs and on the wrong side of 30 could go wrong?"
Burt Wonderlick: "The Angels went all in on Pujols much like the Yankees did on Alex. Be interesting to see if any of the remaining GM's sign hitters over 27 to 10 year deals."