A year ago we asked a simple question: What if we ranked all 122 MLB, NFL, NBA and NHL teams based on their uniforms?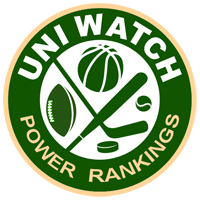 The result was the Uni Watch Power Rankings, which we rolled out last August. It spurred lots of debates, disagreements and arguments -- in other words, it was a big success! So we've decided to do it again.
The new edition of the Uni Watch Power Rankings will kick off Monday, Aug. 19. But we're making a change to the format. Last year we ranked the 122 uniform sets in the "big four" pro sports leagues by going worst to first over the course of five days. This time we're ranking each league's uniforms one day at a time -- MLB on Monday, NBA on Tuesday, NFL on Wednesday, NHL on Thursday -- then presenting the intermixed 122-team chart on Friday. We're also going to post rebuttals to the Power Rankings by several ESPN.com writers.
So that's the plan. See you back here on Monday!