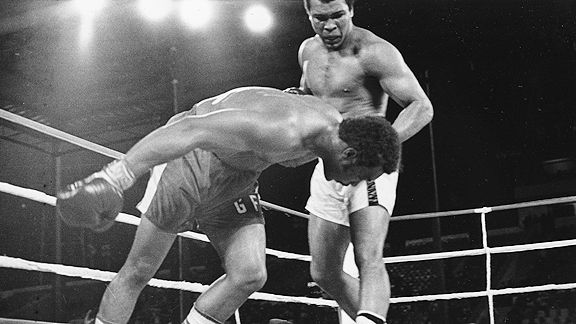 AP PhotoThe ''Rumble in the Jungle'' resulted in a knockout of George Foreman by Muhammad Ali.
Favorites get that way in boxing for a reason -- they've proven time and again their ability to take on all comers. Sometimes, however, things don't go quite as planned. It's why they actually have the fights -- you never know what will happen, and that can produce some of the most legendary matches in boxing history. We've come up with a list of the best upsets of all time. Which do you think is the greatest?


Boxing's greatest upsets

Corbett beats Sullivan
James J. Corbett KO21 John L. Sullivan, Sept. 7, 1892
---

Braddock beats Baer
James J. Braddock W15 Max Baer, June 13, 1935
---

Schmeling beats Louis
Max Schmeling KO12 Joe Louis, June 19, 1936
---

Turpin beats Robinson
Randy Turpin W15 Sugar Ray Robinson, July 10, 1951
---

Clay beats Liston
Cassius Clay TKO6 Sonny Liston, Feb. 25, 1964
---

Ali beats Foreman
Muhammad Ali KO8 George Foreman, Oct. 30, 1974
---

Spinks beats Holmes
Michael Spinks W15 Larry Holmes, Sept. 21, 1985
---

Leonard beats Hagler
Sugar Ray Leonard W12 Marvin Hagler, April 6, 1987
---

Douglas beats Tyson
Buster Douglas KO10 Mike Tyson, Feb. 11, 1990
---

Foreman beats Moorer
George Foreman KO10 Michael Moorer, Nov. 5, 1994
---
Your Rankings
1.

2.

3.

4.

5.

6.

7.

8.

9.

10.