The Houston Rockets won the Dwight Howard rally this offseason. Now, according to Bradford Doolittle's WARP-based calculations, the James Harden-led team also wins the title of best backcourt in the NBA. These rankings aren't without controversy, though; the Stephen Curry/Klay Thompson Golden State Warriors didn't crack the top 10. Do you agree with the analytics? Click on the images below to set your rankings!


Best NBA backcourts

Clippers

Clippers
Chris Paul, J.J. Redick, Jamal Crawford
Heat

Heat
Dwyane Wade, Mario Chalmers, Ray Allen
Lakers

Lakers
Kobe Bryant, Steve Nash, Jodie Meeks
Mavericks

Mavericks
Jose Calderon, Monta Ellis, Devin Harris
Nets

Nets
Deron Williams, Jason Terry, Joe Johnson
Nuggets

Nuggets
Ty Lawson, Nate Robinson, Evan Fournier
Pacers

Pacers
Paul George, George Hill, C.J. Watson
Rockets

Rockets
James Harden, Patrick Beverly, Jeremy Lin
Spurs

Spurs
Tony Parker, Manu Ginobili, Danny Green
Thunder

Thunder
Russell Westbrook, Thabo Sefolosha, Reggie Jackson
Timberwolves

Timberwolves
Ricky Rubio, Kevin Martin, Jose Juan Barea
Trail Blazers

Trail Blazers
Damian Lillard, Wesley Matthews, Mo Williams
Warriors

Warriors
Stephen Curry, Klay Thompson, Toney Douglas
Wizards

Wizards
John Wall, Bradley Beal, Glen Rice Jr.
Your Rankings
1.

2.

3.

4.

5.

6.

7.

8.

9.

10.

11.

12.

13.

14.

Tags:
SportsNation Rank, NBA, NBA, Houston Rockets, Los Angeles Lakers, Los Angeles Clippers, San Antonio Spurs, Washington Wizards, Minnesota Timberwolves, Golden State Warriors, Miami Heat, Oklahoma City Thunder, Portland Trail Blazers, Denver Nuggets, Brooklyn Nets, Dallas Mavericks, Indiana Pacers, Paul George, Jeremy Lin, James Harden, Kobe Bryant, Manu Ginobili, Tony Parker, Dwyane Wade, Ricky Rubio, Stephen Curry, Deron Williams, Russell Westbrook, Chris Paul, Damian Lillard, John Wall
BEST OF THE BEST
Best dancers?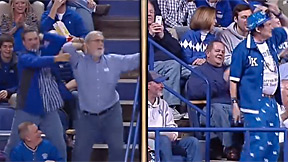 Which fans were better dancers at Tuesday night's Alabama/Kentucky matchup? Vote! »