September 17, 2013
Sep
17
At this past weekend's BMW Championship, Tiger Woods was penalized two strokes when video evidence showed his ball moved after he attempted to remove debris. This is the second time Woods has been penalized after the fact this season because of video evidence -- the previous one coming at the Masters -- leading PGA Tour commissioner Tim Finchem to discuss the issue of spectator-reported violations Tuesday.
"It feels awkward when it happens," Finchem said of Woods' situation. "On the other hand, I hate to say it's part of the tradition of the game because actually you can't really argue that because it's changed with the degree of television we have. I think we need to do some more thinking about it. I think people in the game need to think about it."
What do you think about it?
---
Fan interaction?
On one hand, fans don't call violations in the other major sports. On the other, those have referees watching everything.

---
Calling foul?
Of course, golf's rules are quite strict; do you truly gain an advantage if your ball moves a bit?

---
Skirting the rules?
If you're a rules devotee, you might think less of Tiger Woods for not blowing the whistle on himself.

---
Sign of the times?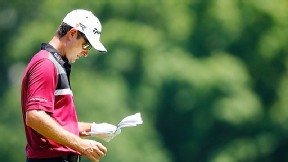 Players can be disqualified if the violations are discovered well after a round.